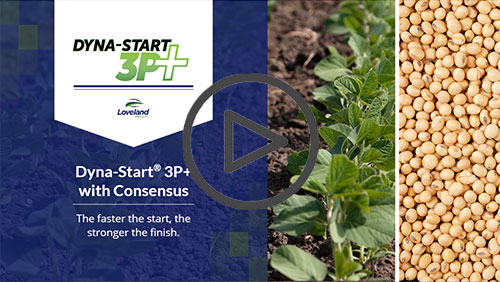 Dyna-Start® 3P with Consensus®

In any growing season, the faster they start, the stronger the finish. Seed treatments are convenient and efficient inputs that help ensure a healthy crop and optimum harvests. They can be tailored to the agronomic issues of a specific crop and field. Plant Growth Regulators, or PGRs, may provide important physiological benefits to a crop, often in minute quantities Biofertilizers such as rhizobia inoculants can be important and environmentally sound substitutes or supplements for inorganic crop nutrients. This module describes the use and benefits of Dyna-Start® 3P seed treatment for soybeans from Loveland Products.

After completing this module, you should be able to answer these questions:
What are Plant Growth Regulators?
How can Plant Growth Regulators benefit plants?
What are rhizobia inoculants?
How can rhizobia inoculants help legume crops?
Where is the best place to use rhizobia inoculants?